Post by dgaddis1 on Jul 30, 2014 8:09:44 GMT -5
I did ORAMM this weekend. What a day. It was everything it was hyped up to be. It was my first time doing the race (60 miles in Pisgah with 10,500ft of climbing), and I had never ridden any of the trails before. The goals were simpe:
1 - Don't Die
2 - Finish
I stopped at all the rest stops, at some I sat down and ate a bit, took my time. But when I was riding, I was trying to push a little bit, but not too much, and I feel like struck the perfect balance. The ride starts with a neutral roll out from Old Fort, NC. Huge group. The folks I rode with then, were the same ones I rode with all day long. Seriously, kept seeing the same guys over and over and over till the finish.
Brief rundown:
Kitsuma Round 1 - Rode up every inch on the initial climb, cleared all the switchbacks. The people in front of me were riding, the people behind me were riding, I was NOT going to be the guy who screwed up and made everyone walk. The downhill sucked, so rough. I was riding a rigid. My brakes got hot enough to smell them. I took some air out of the tires at the bottom, which helped a lot.
Curtis Creek Road - ~10 mile long climb. My stomach wasn't happy at the bottom, but thankfully settled down and I didn't have to take a dump in the woods. Curtis Creek wasn't so bad. Long for sure, but not terribly steep, I rode it all the way, no walking. However, I thought the end of the climb was the top of Curtis Creek. FALSE. I takes you to the Blue Ridge Parkway, where you then continue climbing for about 3 more miles. That kinda took the wind out of my sails a bit. Then a FAST two mile downhill on the Parkway (which is over in the blink of an eye), then 2 more miles of climbing, then a ridiculous hike-a-bike up to Heartbreak Ridge
Heartbreak Ridge - I stopped at the start of the downhill and sat down for a minute. Ate some food, drank some water. On the downhill I took my time, I knew the hardest part of the ride was behind me and I just wanted to stay upright and finish. Crashing and DNFing would really piss me off after all the effort I'd put into the day already. Did I mention that the rigid really sucks on those descents? They're so steep you have to ride the brakes the whole way, and while braking and bracing against the bars so you don't flip, you can't use your arms to absorb the bumps. It's like riding a jackhammer down the mountain for five or six miles. I stopped a few times to shake out my hands and let the brakes cool, they were really, really hot. The last thing I needed was to overheat them and boil the brake fluid.
Kitsuma Round 2 - I was with some guys on climb to the trail, but once we hit the trail they were walking and I rode away. I walked a few of the steepest switchbacks, but rode most of it. I was alone pretty much the whole trail. Once I got to the top I knew it was in the bag and I was stoked. Stopped a few times on the downhill to shake out my hands and give the brakes a rest. They wer soooo hot. Squirted some water on the calipers and it sizzled and boiled off instantly. Crazysauce. Hammered as best I could on the paved ride back into town to the finish line.
60 miles, 10,500ft of climbing, 8:17 total time. I was stoked. Way better than expected, no major problems out on the course. I'll be back next year for sure. Now I know what to expect. Show up with a little better fitness, and keep the pits stops brief, I think I can get down around 7:30.
The race sold out at 500 racers, not sure how many actually made the start line. 372 finished. Overall, I placed 262nd. In the Open Men category I was 68th out of 93.
Thomas Turner set a new course record of 4:23. Again, my time was 8:17. He essentially went twice as fast as I did. That makes my head hurt.
A few thoughts:
-The mental game is huge on those big climbs. If you get a bad attitude, you're doomed and are going to be truly miserable. The climbs are looooooong. Stay positive. If you're around negative people, get away, don't let them bring you down
-Suspension is good. I wished I had some.
-I know the modern drivetrain craze is for double and single chainring set ups, but for me (a guy who loves his single speed), if I'm going to have gears I want the biggest range possible - triple cranks are awesome!!! I used every single bit of the range, I climbed the tight and steep switchbacks on Kitsuma in the granny, and pushed the biggest gear possible on some of the paved descents.
Here's some pics
One of the photographers got a good pic of me
HERE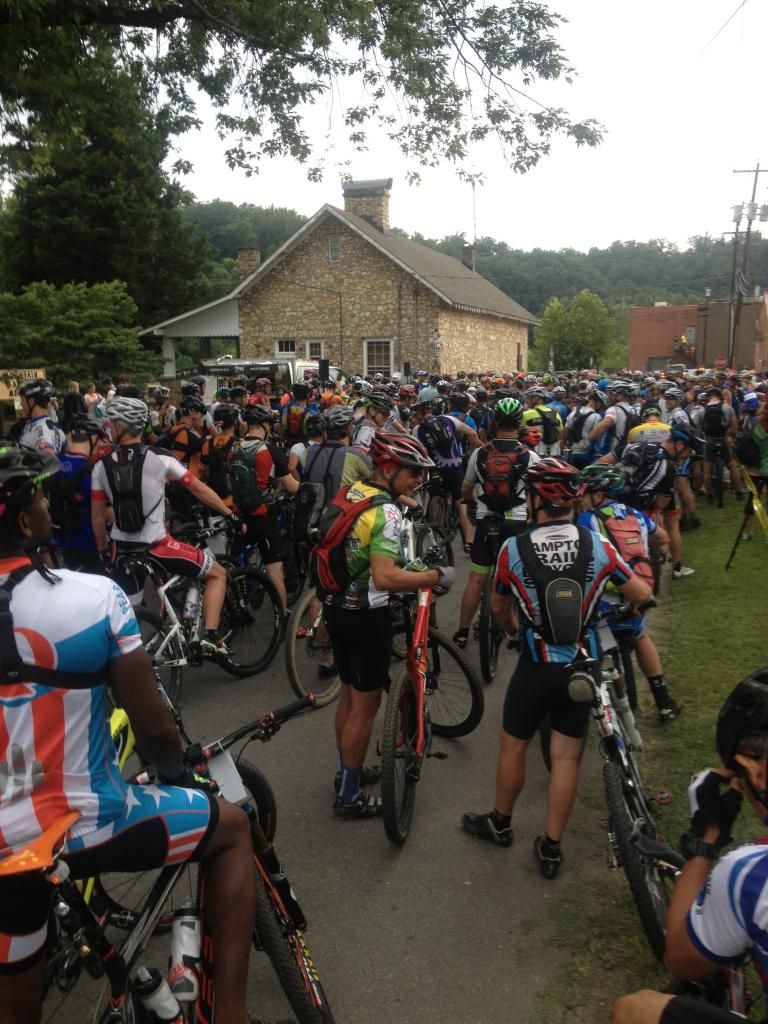 Start.
This was amazingly handy!!!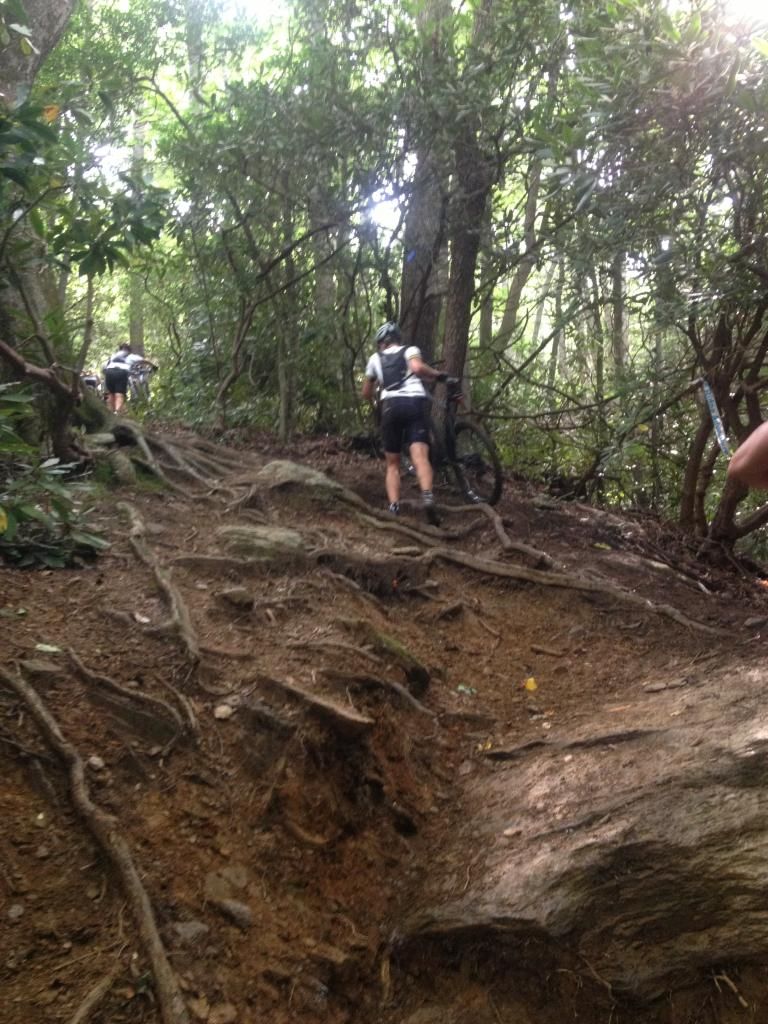 We went up this in the morning, and down it later that day. I walked it both ways. Saw one guy skid up to it and couldn't stop in time, ended up supermaning down onto some roots. He was okay, but broke his shifter off.
There was plenty of hike-a-biking
SAG 2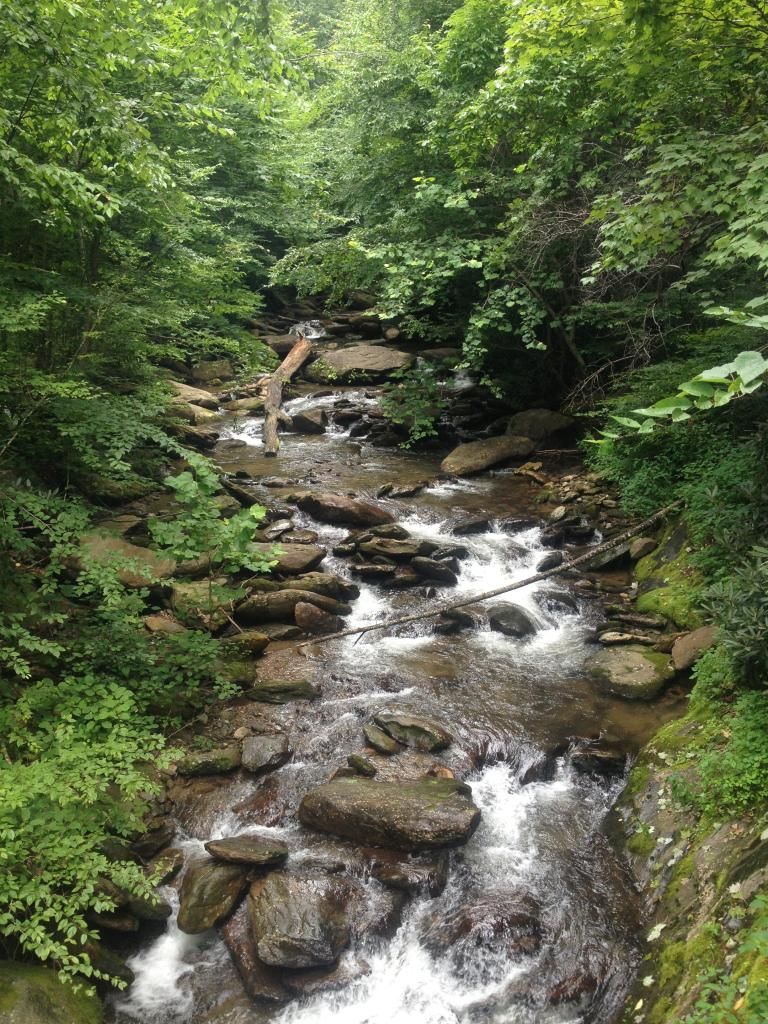 Pisgah forest is absolutely beautiful.
The infamous Curtis Creek road. It took me about 2hrs and 15minutes to ride the 13 miles from the SAG at the bottom of Curtis to the top of the Parkway. 3,330ft of UP. It didn't feel like it took that long, but that's what Strava says.
At least the scenery was nice.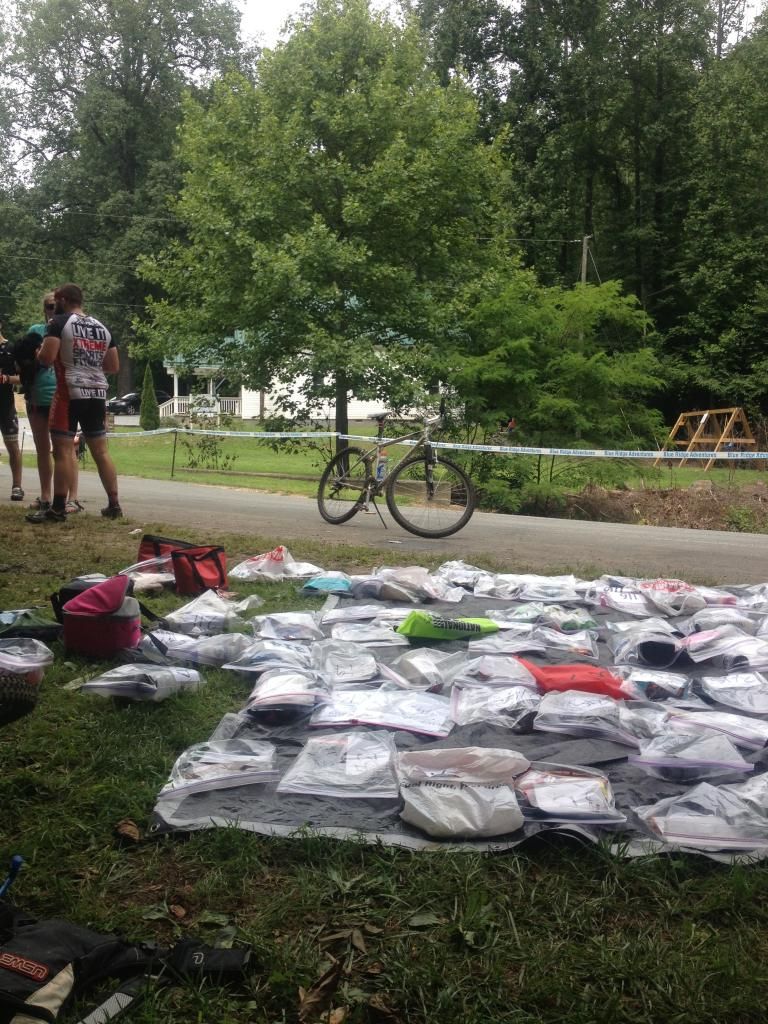 Yep, that's a ~20yr old Hotrock with an elastomer fork, rim brakes, and a kickstand. He finished ~5mins after I did.